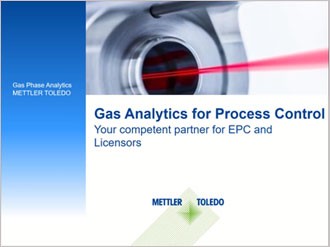 Gas Analyzers for EPCs
Selecting a gas analyzer for a process control project requires a wide range of considerations, from the technology used, to the environment where it is implemented. This webinar covers the key considerations EPCs should take when selecting an analyzer for a project.
It also discusses the unique challenges that EPCs and licensors have when implementing a gas analyzer and how METTLER TOLEDO can help to minimize those challenges with the GPro 500 tunable diode laser gas analyzer.
In this 15 minute webinar, we will cover the following:
Industry Trends in Gas Analytics
The Flexibility Provided by the GPro 500 Concept
How METTLER TOLEDO Supports with Project Management
Why Global Service Support Can Benefit You
METTLER TOLEDO provides tunable diode laser gas analyzers for a wide range of industries and processes. With eight different gasses, our portfolio of TDL gas analyzers can be used in a safety monitoring, corrosion prevention, and a wide range of other applications. For projects where oxygen, carbon monoxide, carbon dioxide, moisture, hydrogen sulfide, hydrogen chloride, ammonia and methane, METTLER TOLEDO's GPro 500 provides a fitting solution.
The GPro 500 uses an analyzer and process adaption concept. Each of the gases can be paired with a range of process adaptions that are suited for different pipe sizes and gas streams. This allows great flexibility for the EPC to select the right pairing for the application, and because the GPro 500 has the laser and detector directly next to each other, there is no need for alignment.

Watch the webinar to learn more about how METTLER TOLEDO supports EPCs in selecting, installing and maintaining gas analyzers for clients globally.