We know from experience that the interpretation and evaluation of measurements is often the most difficult part of an analysis. We have put our knowledge and expertise into an e-Learning tool and a follow-up webinar.
In the web-based seminar (webinar), we will we discuss some crucial issues related to the interpretation and evaluation of TGA curves. Among others, this includes the handling of overlapping mass changes and the identification of evolved gases.
In this e-Training course, you will learn how to interpret individual measurements and get valuable tips on how to obtain additional information using TGA-related techniques such as MS, FTIR, GC/MS or other Thermal Analysis techniques.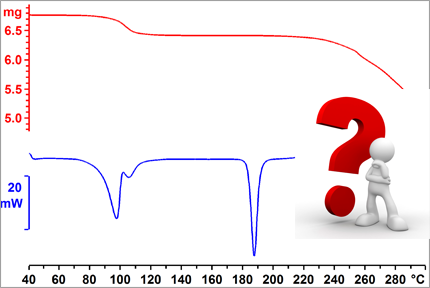 TGA Curve Interpretation – Thermal Analysis e-Training
We also offer On Demand webinars (webcasting or broadcasting) at www.mt.com/ta-on-demand
More information about Thermal Analysis Instruments and Software can be found at www.mt.com/ta.
| Title | Description | Date | Cost | Registration |
| --- | --- | --- | --- | --- |
|   |   |   |   |   |
| TGA Curve Interpretation | Learn how to perform, interpret and evaluate TGA experiments |  Jun. 23, 2021 | 100 USD | View details |