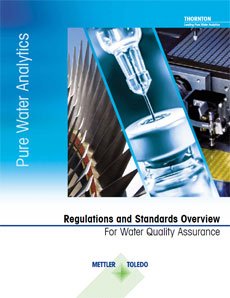 The quality of pure water depends on reliable instruments and electrodes. The selection of right equipment is crucial in reaching industry standards and regulations.
Every industry that makes use of water as part of a process needs to accurately measure various analytical parameters to control water quality and meet regulations and standards.
Pharmaceutical companies have to be in compliance with pharmacopeias such as USP, EP, JP, ChP and IP, and safety authorities including the FDA and EMA. Power plants must meet strict guidelines to meet turbine warranty requirements and control corrosion and deposition. Semiconductor manufacturers follow stringent standards set by ITRS, SEMI and AST.
With over fifty years of experience in water purification and as a leader in innovative process analytics technology, we have the expertise required to provide smart measurement solutions to meet the regulations and standards in each industry.
For pharmaceuticals manufacturers, our wide portfolio of sensors and analyzers includes an on-line microbial contamination detector that reduces the need for costly, time-consuming lab measurements; a conductivity sensor that covers the range from ultrapure water to CIP/SIP processes; and on-line and portable total organic carbon sensors.
Our power industry portfolio offers a range of on-line analyzers for chloride, sulfate, sodium and silica monitoring; a system that covers specific, cation and degassed cation conductivity; plus much more.
For microelectronics manufacturers our product range includes a fast responding, low maintenance optical dissolved oxygen sensor; real-time total organic carbon analyzers and wide range conductivity sensors.
Learn more and see the water regulations for your industry in our Water Purification guide.
Table of contents:
Product solutions designed to ensure confidence, convenience and compliance for the pharmaceutical industry
Global pharmacopeia regulations for purified water and water for injection
Precise measurements, accurate in-line solutions for the microelectronics industry
Recommended guidelines for ultrapure water in the microelectronics Industry
Leading analytical measurements for makeup water treatment in the power industry
Recommended guidelines for the power industry
Reliable measurements to reduce corrosion and deposition in the power industry