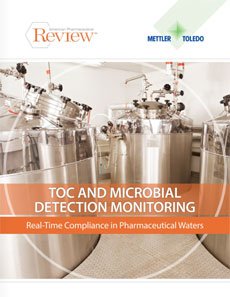 Real-Time Compliance in Pharma eBook
Our TOC sensors and microbial detection analyzer enable continuous assurance of water quality through unique, real-time measurement systems, providing complete confidence in regulatory compliance. Confidence is maintained by engineering systems to address all globally recognized requirements of regulated waters and providing continuous measurements to prevent undetected issues from shutting down production.
Proper and thorough monitoring of pharmaceutical water systems is imperative to deliver the highest quality products to patients. This eBook, published in American Pharmaceutical Review, offers a series of articles written to help you meet the demands of ever-stricter water testing regulations. Topics include:
Real-time TOC measurement
Simplifying TOC regulations for pharmaceutical waters
Biofilm and endotoxins and their relationship, water system surveillance for better process control and risk reduction
Bioburden analysis for process control.
The eBook is supported in Chrome, IE, Firefox, Safari and newer version of Microsoft Edge.