Compression weigh modules are used to create scales when standard scale products are not available. The scales created can be customized platform or conveyor scales, tanks, hoppers or reactor vessels.
Needless to say, weigh modules must be carefully chosen to provide the required performance over their lifetime. A new guide supports engineers in choosing the right weigh module. It walks readers through the following 8 steps:
       Calculating weighing capacity
       Determining mechanical and electrical topology
       Providing safety during installation and operation
       Complying with accuracy requirement
       Complying with hazardous zones
       Complying with environmental conditions
       Facilitate fast and economical installation
       Determining calibration method
METTLER TOLEDO offers weigh modules, including junction boxes, with approvals for all globally relevant standards.
       Capacities: From 110 kilograms up to 100 tons
       OIML, NTEP, ATEX, FM, IEECx approvals as standard
       Compliance with EHEDG and NSF guidelines
       Hardware available in carbon steel or 304 or 316 stainless steel
       Stainless-steel load cells with IP68/IP69K protection
       Connectivity to fieldbus: PROFINET, PROFIBUS, EtherNet/IP, CC-Link
A new guide leads engineers in 8 steps through all relevant points to make the right selection for their application.
Weighing Is Ideal
for Inventory Control in Tanks
You can choose from a wide variety of measuring methods for inventory control of solids or liquids in tanks and silos. However, accuracy can depend on material characteristics and environmental conditions. Non-contact distance and level measurement techniques as well as almost all flowmeters only provide a volume measurement.
In contrast, weighing technology provides a reliable and accurate result for all conditions and every material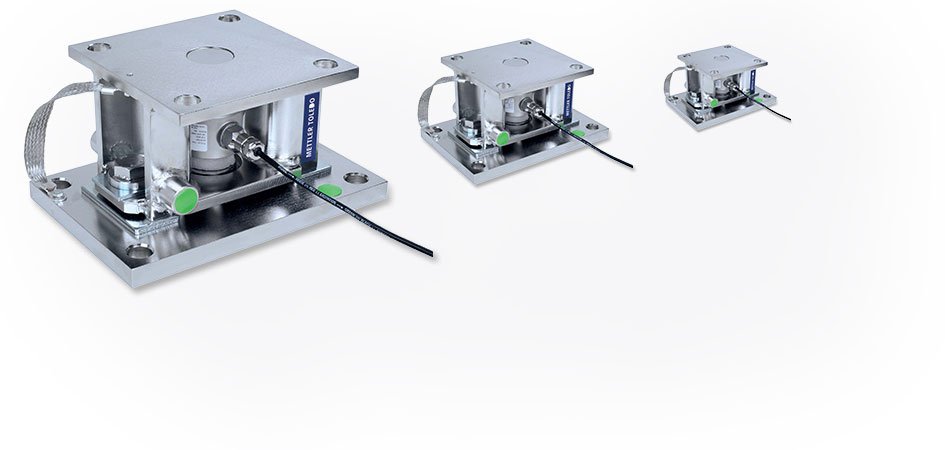 Intelligent Weigh Modules Provide Higher Accuracy
Future-oriented weighing technology for automation is based on intelligent load cells such as POWERCELL® from METTLER TOLEDO. The central element of these intelligent load cells is a microprocessor for signal processing integrated with analog-digital conversion. The analog-to-digital conversion is performed directly at the physical process or "actual working point". This eliminates the error-prone transmission of analog values over distance and environmental factors such as temperature changes and vibrations. In addition, the microprocessor corrects the linearity error of mechanics and electronics.
Weighing is the Best for Inventory Control in Tanks
When it comes to accurate inventory control in tanks and silos, indirect measurement technologies such as level sensors and flowmeters are usually not what works best
Weighing is better because:
It is effective regardless of tank design, material distribution and cavities.
Measurement is independent from temperature, dust, foam and waves.
Calibration is easier and more reliable than with volumetric technologies.
See for yourself why weighing is the better solution when compared to alternative technologies