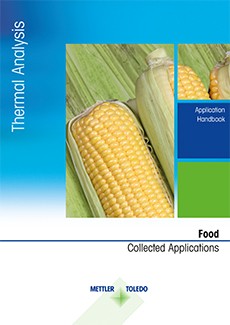 Thermal Analysis of Food
The role of food is nowadays more important than just providing essential nutrients and nourishment – it is a pathway to good health. This change has opened up new fields in food science and food technology as well as in the analytical testing of foods and foodstuffs.
Characterization of Food by thermal analysis
Thermal analysis techniques such as differential scanning calorimetry (DSC), thermogravimetric analysis (TGA) and thermomechanical analysis (TMA) are widely employed in fields such as food processing, food storage conditions, and food quality in various segments of the food industry.
The Thermal Analysis of Food handbook demonstrates the application of thermal analysis to proteins, carbohydrates, fats and oils using various thermal analysis techniques. The most important effects investigated include the denaturation of proteins, swelling of starch in water, melting of sugar, thermal decomposition of sugar and starch, and the melting and crystallization of fats, oils and chocolate. The handbook is structured as follows:
Introduction to Thermal Analysis

Application Overview Food

Reactions and Phases in Food Technology

Proteins

Carbohydrates

Lipids: Fats and Oils

Application Examples and Techniques