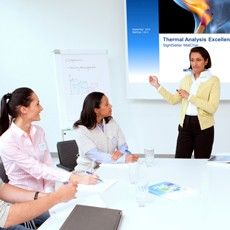 Basic one day training course in TGA (English)
This course introduces the principles governing TGA and TGA/DSC instruments and teaches you how to select appropriate experimental parameters that help you get the most out of your TGA. In the afternoon we will discuss some special TGA methods and techniques.
Program:
TGA and TGA/DSC principles

Choosing the appropriate experimental parameters

TGA measurements and evaluations

Evolved Gas Analysis

Introduction to Kinetics

MaxRes

Advantages of TGA/DSC

FAQs
March 31, 8.30 to 17:00 (EN)

March 31, 8.30 to 17:00 (EN), CET

Mettler-Toledo GmbH, Im Langacher, 8606 Greifensee (Switzerland)
Course language: English
Course fee: 675.- CHF
Course fee includes lunch.