Evolved Gas Analysis – Collected Applications
A comprehensive collection of applications for evolved gas analysis (EGA)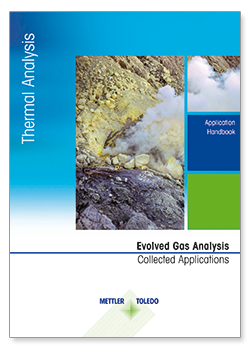 Coupling thermogravimetric analysis (TGA) to a suitable gas analyzer enables materials to be characterized both quantitatively (TGA) and qualitatively (EGA). The EGA techniques allow gas re­lease resulting from the thermal decomposition of a sample to be measured. Among others, these include the following thermal analysis measurement techniques:
1. TGA-MS,
2. TGA-FTIR,
3. TGA-GC/MS and
4. TGA-Micro GC/MS
This handbook provides a lucid and comprehensive introduction to EGA, and presents over 30 illustrations of real applications.
Examples of contents
(pdf)
Typical applications of TGA-EGA covered in the handbook:
characterize gases released during thermal and oxidative processes;
obtain information about decomposition reactions;
investigate vaporization and sublimation processes;
identify solvents or additives;
determine additives and individual compounds in a material matrix;
study adsorption and desorption behavior;
analyze curing processes;
separate an unknown substance into its constituents (for example in the investigation of competitive products);
determine the reasons for product failures.