Pipet-Lite Adjustable Spacer LA8-300XLS
Ergonomic Performance Champion.
Pipet-Lite™ XLS adjustable spacer 8-channel pipette, 20-300 μL, uses LTS™ LiteTouch™ tips. Nozzle spacing 9-14 mm. Accurate, precise, ergonomic, rugged, durable (LA6-300XLS)
Accelerate your workflow
Accelerate your workflow by reducing up to 87% of your pipetting steps when transferring multiple samples between plates, tubes and other vessels.
Comfort and performance
Total hand comfort and performance with LTS tips providing lowest tip eject forces and unmatched consistent pickup and dispensing across all channels
GLP/GMP security and asset management
RFID tags provide secure service data for ease of calibration tracking, asset management and maintenance schedules for your pipetting inventory.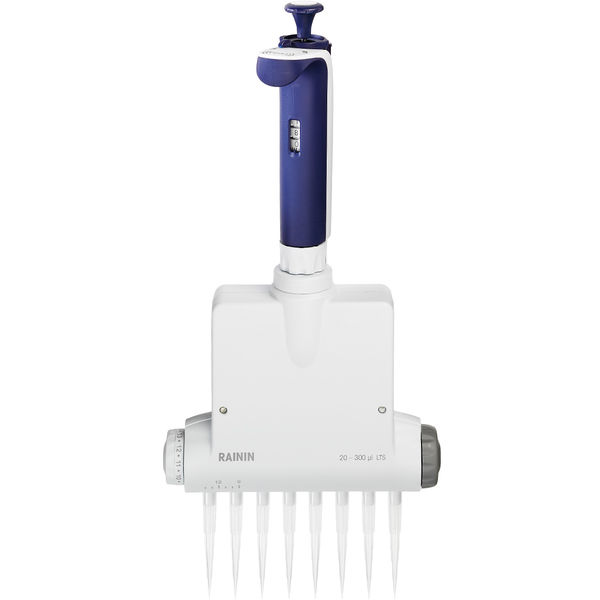 A New Twist in Multichannel Pipetting
The Pipet-Lite XLS Adjustable Spacer puts a new twist on pipetting: a 6- or 8-channel pipette with adjustable nozzles to quickly transfer liquids from one format to another. Its speed, ease and accuracy make it ideal for Genomic, Proteomic, Tissue Culture and Cell Culture applications. For example, aspirate samples from micro-centrifuge tubes, turn the spacing knob, and dispense into a 24, 48, or 96-well plate.
Like all Pipet-Lite XLS models, its embedded RFID tag enables advanced calibration tracking with optional reader, software and PC.
Product Family:multichannel-pipettes00040005
Specifications - Pipet-Lite Adjustable Spacer LA8-300XLS
| | |
| --- | --- |
| Volume Range | 20 µL ; 300 µL |
| Increment (manual) | 0.5 µL |
| Volume | 30 µL; 150 µL; 300 µL |
| Accuracy ± (%) (µl) | 2.5 % ; 0.75 µL ; 0.8 % ; 1.2 µL ; 0.8 % ; 2.4 µL |
| Precision ± (%) (µl) | 1.5 % ; 0.45 µL ; 0.3 % ; 0.45 µL ; 0.25 % ; 0.75 µL |
| Tip Technology | LiteTouch System LTS |
| Channels | 8 |
| Pipette Type | Manual |
| Material Number(s) | 17011843 |
Volume Range:20 µL ; 300 µLVolume Range:20 µLVolume Range:300 µLTip Technology:LiteTouch System LTSTip Technology:LiteTouch System LTSChannels:8Channels:8Pipette Type:ManualPipette Type:Manual