System ReactIR 702L, TEMCT
Improve Reaction Understanding.
Turn On, Collect Data, Find Trends
New solid state detector technology with optimized optical interface for Comp probes. Best in class performance without the need for liquid nitrogen.
Small, Portable, Flexible
Small, light, stackable unit can be easily moved to any fume hood, glove box or to the lab next door for use anywhere, anytime.
Study all Reactions
Probe-based sampling technology for real-time reaction analysis. Study batch or flow reactions under any process conditions.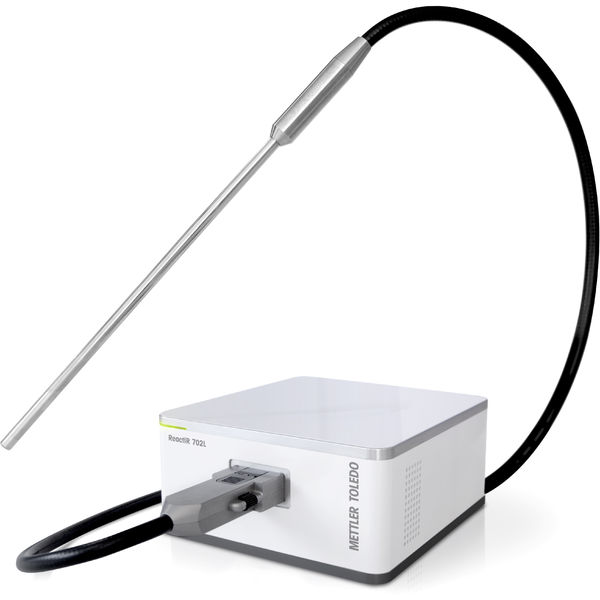 In-Situ FTIR Spectroscopy
What is FTIR analysis used for?
Will ReactIR Work for You?
Application of ReactIR FTIR spectrometers.
Real-time Reaction Monitoring
Three case studies discuss using in-situ FTIR reaction monitoring to advance organic chemistry.
Specifications - System ReactIR 702L, TEMCT
For Use In

Laboratory
Software

iC IR
Detector

TE MCT
Optical Range (Base Unit)

4000 - 800 cm-1
Purge Requirement

No
Resolution

4 cm-1 maximum
Communication

USB
Probe Optical Window

2500 – 650 cm-1 maximum (Fiber Probe)
4000 – 650 cm-1 (Sentinel)
4000 - 650cm-1 (Micro Flow Cell)

Probe Pressure (Maximum)

69bar (6.3 & 9.5mm Fiber Probe)
35bar (Micro Flow Cell)
206bar (Sentinel)

Probe Temperature (Maximum)

180°C (Fiber Probe)
60°C (Micro Flow Cell)
300°C (Sentinel)

Weight

9.2 lb (4.2 kg)
Wetted Materials

Alloy C22
Diamond or Silicon
Gold or PTFE

Probe pH Range

1 – 14 (Diamond)
1 – 9 (Silicon)

Dimensions (DxHxW)

9.2 in x 4 in x 8.1 in (234 mm x 100 mm x 206 mm)
Laser Safety Certification

IEC 60825 (CE), 21 CFR 1040 (US)
Safety Certification

NRTL/C: UL 61010-1, CSA 22.2 No. 61010-1, EN 61326
CE: EN/IEC 61010-1:2012, IEC 61326

Material Number(s)

30456495
No More Liquid Nitrogen
Solid-state detector cooling technology delivers best-in-class performance without the need for liquid nitrogen. By eliminating hazardous experimental setup and repetitive Dewar refills, scientists can monitor chemistry with ease over extended periods.
One Click Analytics
iC IR combines a peak picking algorithm with functional group intelligence to drastically reduce analysis time. Users combine knowledge of their chemistry with an automated data analysis workflow to ensure correct interpretation for every experiment.
Enhance Serviceability
Modular service concept for increased uptime and reduced cost of ownership.
Documentation
Datasheets

ReactIR enables scientists to study reaction progression over time, providing specific information about initiation, endpoint, conversion, kinetics, m...