ACW520 Cable-Free Floor Scale
Complete Freedom from Cables Flexibility to Place Anywhere
Place and Weigh Anywhere
Our cable-free and pre-calibrated floor scale was designed to give your operation the flexibility it requires. With the ability to place and weigh the same day, exactly where you need it – you can avoid any disruptive downtime. Additionally, by eliminating the construction, digging and electrical work that is typically required with a floor scale installation – you save tons.
See why elephants prefer cable-free, watch the video!
Fully Wireless Communication
For some operations, burying equipment cables is not an option. In this case, there is a risk for operators to trip over cables, as well as accidently cut cables in production. Eliminate these hazards and reduce downtime with a cable-free floor scale.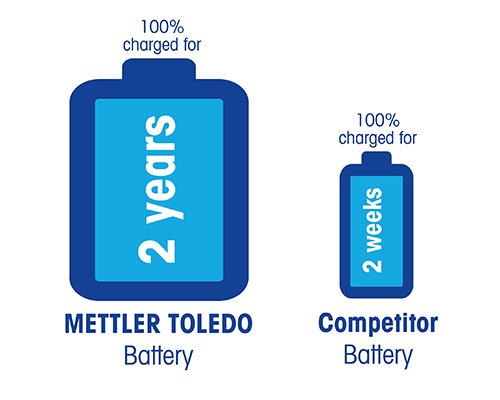 Unrivaled 2 Year Battery Life
Not all cable-free floor scales are created equal. Only METTLER TOLEDO can offer a scale that eliminates charging stations, failure prone rechargeable batteries and the associated downtime. Our battery holds its charge for an incredible 2 years of use – saving you on energy cost, and keeping your equipment up and running when it matters most.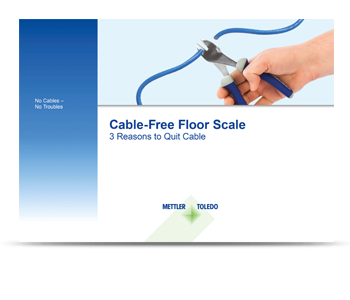 3 Reasons to Quit Cable
In fast paced industrial environments, there are plenty of reasons to want the freedom of a cable-free floor scale. We narrowed it down to the top three.
Download the eBook to see how you could benefit from METTLER TOLEDO quality, in a new flexible package.
Documentation
Brochures

When verifying inventory, parts, or production quantities, every piece is important. Precision piece-counting technology ensures that only the right n...
Services
Explore our Services - Tailored to Fit your Equipment
Industrial Floor Scales for Any Application

Industrial Floor Scales are used in a wide range of applications throughout many industries and industrial segments world wide. From pharmaceuti...


Industrial Floor Scales are used in a wide range of applications throughout many industries and industrial segments world wide. From pharmaceutical manufacturing to logistics operations, the floor scale is a critical piece of the process. Our broad offering ensures you find your perfect fit.

High-Precision Floor Scales are robust enough to weigh you heavy loads, precise enough to weigh your smallest. These scales including floor scale with ramp offerings are ideal for operations requiring the highest level of accuracy to ensure consistent quality and eliminate bad batches.

Digital PowerDeck Floor Scales: maximize your production yield with real-time operator guidance and system alerts. Prevent downtime before it happens, and coach operators to perfect weighments every time.

Hygienically Designed Floor Scales: for zones requiring the highest hygienic standards, our stainless steel floor scales are the perfect fit. Built for easy wash-down and elimination of cross-contamination or hygienic risks. These solutions are ideal for hygienically sensitive areas including pharma production facilities and food production facilities. Liftable floor scales allow you to easily clean under the scale in hard to reach areas and stainless steel offerings ensure protection against harsh environments. Look also for IP protection that can withstand heavy wash down.

Heavy Duty Floor Scales: for industrial environments requiring rugged equipment that can take a daily beating. Cable-free floor scales and wireless floor scales options are also an ideal fit for operations requiring lean manufacturing capabilities.

Request an onsite consultation for information from our heavy-duty weighing experts. Discover additional possibilities and floor scale for sale options, including solutions such as:

Floor scales with ramp solutions
Large floor scale offerings
Commercial floor scale offerings
Floor weight scale varieties
Floor scale with printer options
Wireless floor scale options
Low profile floor scale offerings

Find your ideal floor scale today!
Explore our Services - Tailored to Fit your Equipment
We support and service your measurement equipment through its entire life-cycle, from installation to preventive maintenance and calibration to equipment repair.