Press Release: Moisture Data Management Made Even Easier and More Efficient with New PC Software
METTLER TOLEDO launches EasyDirectTM Moisture Software to simplify and optimize moisture analyzer data management. The new software is easy to install and set up, and operation is intuitive.
Greifensee, Switzerland—May 27, 2019—Connect your moisture analyzers to EasyDirect Moisture Software and improve your data management. EasyDirect gives you enhanced control of your results. Collect data automatically, create reports, visualize results in control charts and perform statistics.
Moreover, central instrument management provides an overview of instrument status and allows you to schedule routine testing and service to ensure the moisture analyzer delivers accurate results.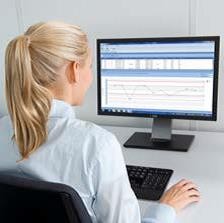 Collect data automatically
EasyDirect Moisture Software can collect moisture data from up to five instruments (HX204, HS153 or HC103) to minimize manual transcription errors and save time. Data is stored securely in an SQL database. The background application runs and logs results regardless of whether you have EasyDirect Moisture open in a window or not. Results can be filtered by date, instrument, user or sample. Data can be exported to PC in several formats (CSV, XML and PDF) as well as printed on a network printer to ensure ease of use.
To experience the improved data control and processing ease of EasyDirect first-hand, download your free 45-day trial version today at: www.mt.com/moisture-software
About METTLER TOLEDO

METTLER TOLEDO is a leading global supplier of precision instruments and services. The Company is the world's largest manufacturer and marketer of weighing instruments for use in laboratory, industrial and food retailing applications. METTLER TOLEDO also holds top-three market positions in several related analytical instruments and is a leading provider of automated chemistry systems used in drug and chemical compound discovery and development. In addition, the Company is the world's largest manufacturer and marketer of metal detection and other end-of-line inspection systems used in production and packaging and holds a leading position in certain process analytics applications. Additional information about METTLER TOLEDO can be found at  www.mt.com

Press Contact:
METTLER TOLEDO GmbH
Laboratory Weighing
Branko Radovinovic
Head of Communications Laboratory Weighing
Im Langacher 44, 8606 Greifensee, Switzerland
Tel.: +41 44 944 20 39
Email: branko.radovinovic@mt.com
For Word file and Images please contact us.