Our new series of high-end bench scales facilitates advanced counting and quality control. The capability to weigh from 1 milligram to 300 kilograms makes it easy to precisely weigh light parts in large quantities.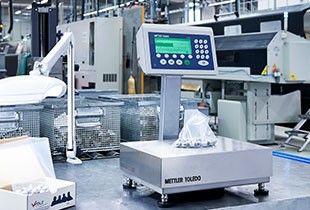 New high-precision scale
New high-precision scale
If you are concerned about living up to your quality promises, the new PBK9 high resolution scale is for you. It offers unrivaled accuracy for piece counting operations of high-value or light-weight parts. With it, you can:

Prevent giveaway—even with large batches—to reduce costs
Measure differences in assemblies
Create precision-filling applications
Get rid of process variations
Show customers you have quality under control

The new PBK9 bench scales offer a wide variety of weighing platform sizes and capacities. Its smallest platform offers a capacity of 0.6 kilograms with a non-approved readability of 1 milligram.

New high-precision scale
Count large quantities of ightweight pieces

Instead of using two scales for counting applications, skip a platform and use one PBK9 weighing platform for the entire process. Weigh large batches of tens of thousands of parts and use the counting reference with the same scale. Thanks to the high accuracy of this scale, you can save money, warehouse space and unnecessary operator movements.
Control deviations in heavy parts

Do you have to check if your assemblies are intact or your cable coils have the right length? With the PBK bench scale, you can make sure that slight failures will not go unnoticed, even with heavyweight assemblies. For example, with the METTLER TOLEDO Monobloc high-resolution technology, you can measure the application of lubricant to a heavy motor block on a 300 kilogram platform with the unmatched readability of 0.5 grams.