pH Accessories
Ergonomic Electrode Arms, Magnetic Stirrers, Printers, Scanners and More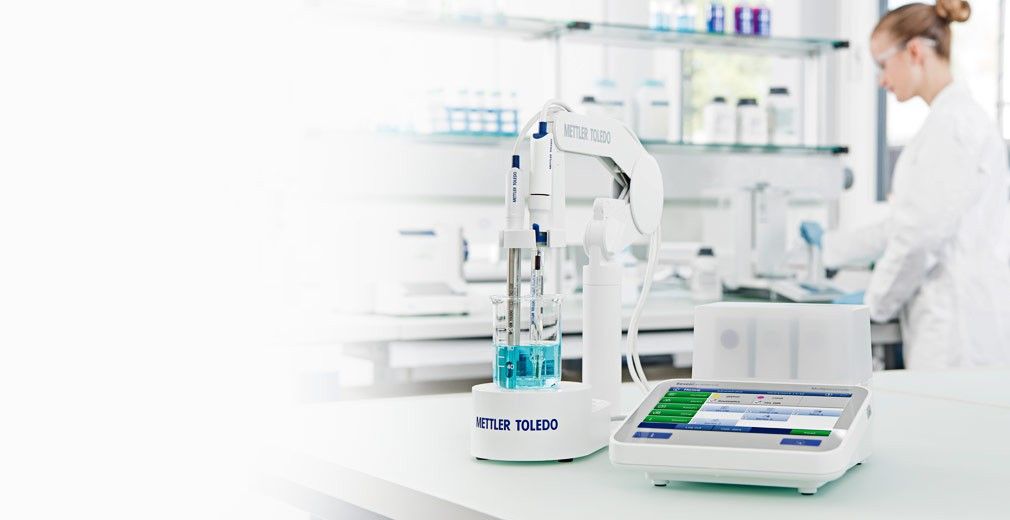 Enhance and Customize with pH Accessories
Our benchtop and portable meters are ideally suited to provide you with accurate measurements when combined with one of our robust and reliable sensors. Add an item from our range of effective pH accessories to simplify your workflows, reduce error risk, and make it easier to obtain the accuracy you need.

Each meter has multiple interfaces that allow you to connect to helpful pH accessories and peripherals such as printers, barcode readers, and stirrers according to your application needs.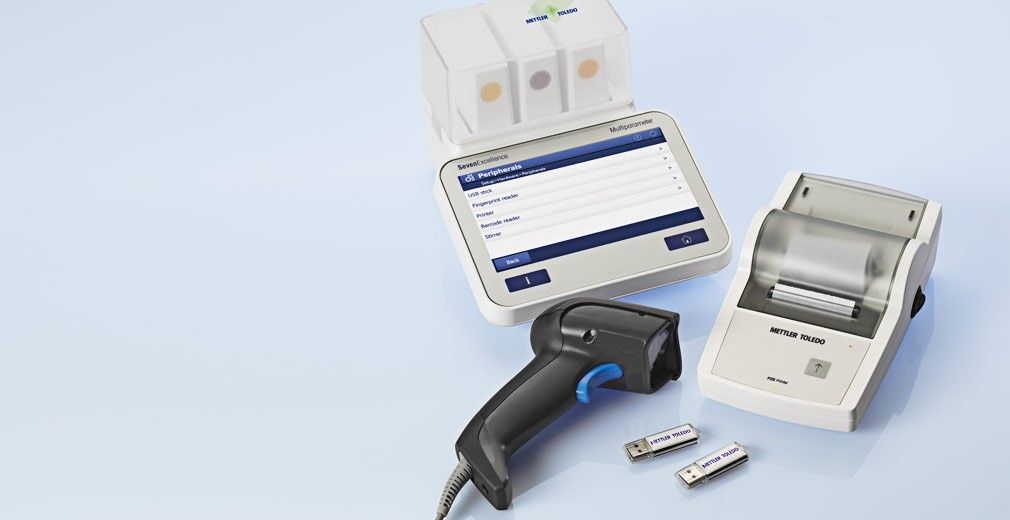 pH Accessories for Data Management
Our pH meter accessories help you complete tasks that are necessary for maintaining GLP compliance. For example, adding a barcode reader supports the efficient input of sample IDs, while selecting a printer can help you generate durable documentation without risk of transcription errors.
Printers
METTLER TOLEDO offers a selection of printers to support your meter. This includes compact printer models that allow easy connection by USB and enable you to print your results for long-lasting documentation.
Barcode Readers
Our easy to handle and connect pH meter accessories let you automatically read sample IDs. You save time and avoid transcription errors with fast, secure identification that helps to create complete metadata.
Data Export
Create pdf reports or store the data in other formats for further analysis. Depending on your security and automation needs, our meters allow you to export data onto a USB memory stick, PC Software EasyDirect™ pH, or LabX® pH.

pH Accessories That Support the User Experience
pH sensor accessories and meter add-ons can enhance your workflow. We offer pH accessories that increase your comfort, reduce error risk, and simplify your workflows to make measurements faster, easier, and more accurate.
Magnetic Stirrer to Reduce pH Errors
Gentle stirring of a sample solution can help to eliminate liquid junction potential errors. With an optional magnetic stirrer, stirring time and speeds are controlled by the pH meter. This helps to ensure sample homogeneity and reduces pH measurement errors.
Position Your Sensor Precisely
An ergonomic electrode arm moves vertically with precision and can be operated using just one hand. This allows for faster measurements and reduces the risk of sensor damage or sample vessel tipping.
Connect Quickly and Securely
LogStraight™ is a helpful addition to your toolkit of pH meter accessories. It offers you a biometric fingerprint reader that eliminates the hassle of entering passwords. Simply place your finger onto the reader and the instrument will immediately know who you are.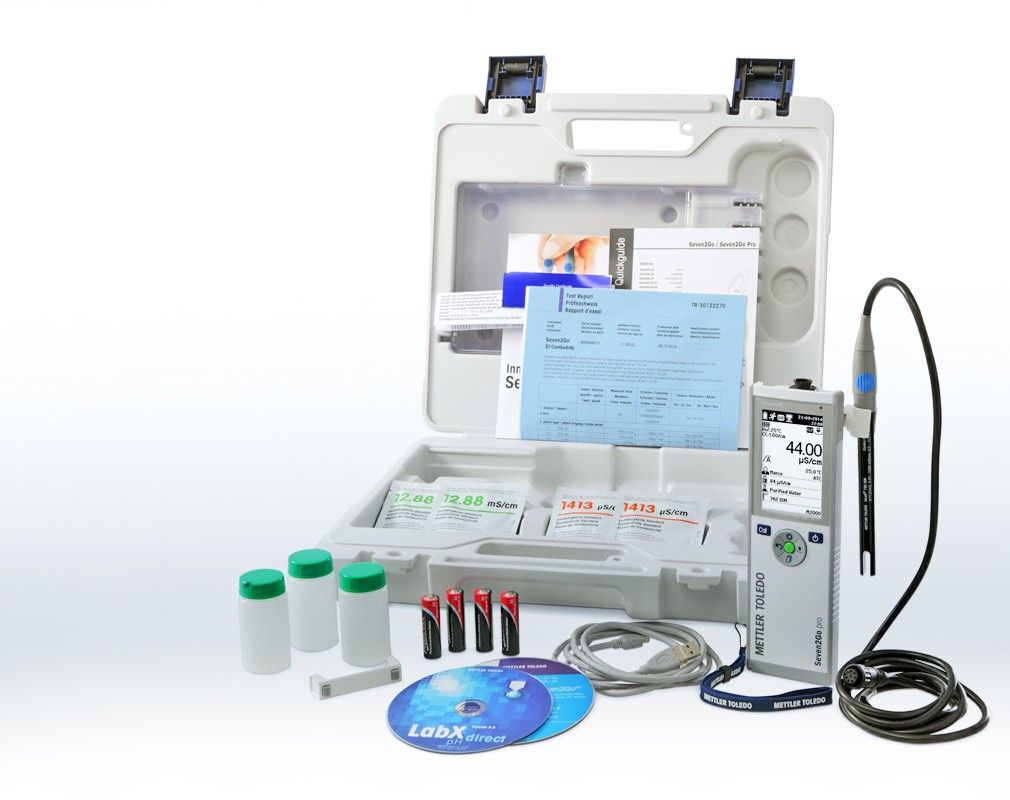 pH Meter Accessories for Accuracy on the Go
The uGo™ carrying case provides an ideal fit and robust protection for the Seven2Go™ meter, sensor and all the pH probe accessories and meter components you need to perform regular measurements outdoors. The case can even be used as a mobile lab, allowing you to calibrate and set up your measurements in the field.
The addition of a specialized rubber holster provides additional protection against accidental drops, dirt, chemicals, and UV light.
Documentation
FAQ
How Can I Enhance My Current pH Benchtop or Portable Meter?
The addition of pH accessories to your electrochemistry system allows you to enhance and customize your measurements. METTLER TOLEDO offers printers, electrode arms, modular expansion and stirrers as pH accessories. These pH accessories are available for both benchtop and portable pH meters for use in the lab or in the field:
pH accessories for data security:
Accessories for enhanced data security include printers, barcode readers, and data export capabilities. Printers offered are network, USB, or RS232. Barcode readers reduce potential errors during transcription and our meters support PDF format export onto a USB.
pH accessories to enhance workflow:
The uMix™ stirrer adds flexibility by allowing you to adjust stir speed and can be set up individually or as part of a method. The uPlace™ electrode arm has perfectly vertical movement ensuring containers are not tipped over.
Which Printers Can Be Used with the SevenExcellence?
There are three types of printers which can be used with SevenExcellence™:
Network printers. 
The same is printed as you get when creating a PDF file on a USB memory stick. It is not possible to connect a standard PC printer to SevenExcellence directly, only via Ethernet connection.
USB compact printer as in P25 printer. 
The same information as on a PDF file is printed but in a more compact format. The main cable and the USB cable are included in the delivery of the printer.
RS line printer as in RS-P25, RS-P26, or RS-P28. 
Same print-out as with USB compact printer but via RS232. The main cable and RS232 cable is included in the delivery of the printer. 
At least for version 1.00, 1.10 and 2.0 of SevenExcellence only printers with auto baudrate function are supported. Therefore, RS-P42 or GA42 or similar printers cannot be used.