DMA Deformation Mode - Tension
Tension is the measuring system of choice for the determination of viscoelastic properties and dimensional changes of fibers and films. The sample is clamped at its ends with sufficient pretension applied to avoid sample buckling and to keep the sample under tension during the whole experiment.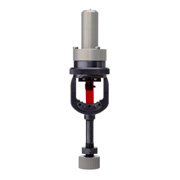 Description
A so-called debuckling algorithm automatically selects optimized pretension values. This algorithm is particularly useful for materials that exhibit dramatic changes of modulus during a transition.