DMA Deformation Mode - Shear
Measurements in shear offer advantages not provided by any other measuring systems. For instance, samples can be run from high to low stiffness without any drastic volume and geometry changes. This guarantees the application of a correct geometry factor during the entire run. In combination with the precise force and deformation measurements of the DMA/SDTA861e, this ensures the correct determination of viscoelastic properties.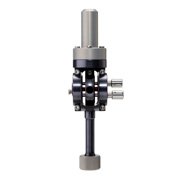 Description
External sample preparation makes sample mounting easy. It moreover enables the correct determination of sample dimensions and allows you to exploit the true potential of dynamic mechanical shear measurements. If required, textured shear plates can be employed to prevent sample slippage. Since no pre-tension is required, the complete force range can be used for dynamic measurements. Typical samples are all kinds of polymer materials. Stiffness changes of 7 decades can be achieved in a single measurement.