Potentiometric Compact Titrators
Dedicated Titrators for Acid/Base Titration Applications
Potentiometric Titration

Overview of the METTLER TOLEDO's Potentiometric Titration portfolio:

The Potentiometric Compact Titrators are designed to ideally suit y...


Overview of the METTLER TOLEDO's Potentiometric Titration portfolio:

The Potentiometric Compact Titrators are designed to ideally suit your lab. Taking the step from manual to fully automated titration allows you to increase efficiency by dedicating your time to other important tasks. With its easy-to-use interface and space saving titrator design, the Compact Potentiometric Titrator is the ideal choice for your daily routine analysis.

The G10S Compact Titrator is ideal for fast and precise potentiometric titration with very simple operation.
The Routine Potentiometric G20S Titrator combines fast and precise potentiometric titration analysis with simple operation. More than 20 titration standard are available as pre-programmed METTLER TOLEDO methods and can be used directly.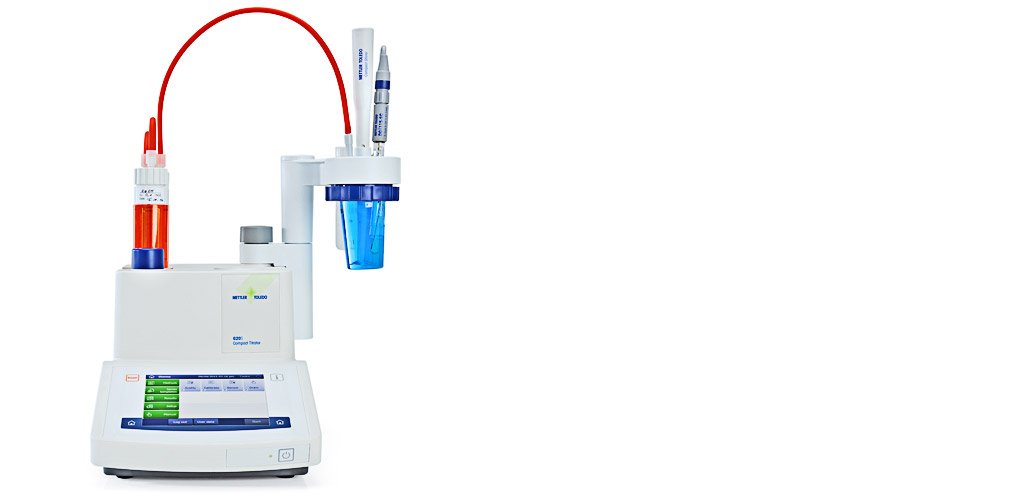 The Intelligent Helper
For simple and secure titrations
Today's lean laboratories focus on increasing efficiency while minimizing excessive use of bench space. Thanks to the One Click® usability concept, you are able to conduct your basic titration analysis from one single device by simply adding specific shortcuts onto the Homescreen.

METTLER TOLEDO Potentiometric Compact Titrators are specially designed for routine applications , potentiometric titration and simple operation.
One Click Titration
Direct access to your routines
The large color touchscreen with the One Click user interface is easy-to-understand, and you'll be able to quickly familiarize yourself with the screen. Each user has their own home screen with customized language selection and shortcut keys, which enables routine procedures to be executed with just the push of a button. Potentiometric titration has never been designed so absolutely simple.
Fast Installation
Error-free titration
Both the titrant and the sensor are automatically detected upon connection to the titrator and all applicable data are saved on the burette or sensor chip. The data is directly transferred to the titrator, where it can be. saved and monitored. Errors occurring during the installation of resources are now a thing of the past. Plug & Play – safe titration couldn't get any simpler.
Compact and Simple Automation
Quick and safe sampling
The automatic Rondolino titration stand is simple to install and uses minimal bench space. Series of up to 9 samples are processed quickly and safely. Dip-rinsing after each analysis ensures minimal carryover and after the series, the sensor is moved to a fixed conditioning beaker.
Working Safely with Chemicals
Protect your samples and operators
Contact with liquid chemicals should always be avoided. The Solvent Manager takes care of filling, draining and exchange of solvents. It is fully controlled by the titrator which offers One Click access to all tasks. LevelSens offers additional security by monitoring solution and preventing overflow in the waste bottle.
Sensor Test Promise Reliable Results –
High result accuracy
The sensor test, designed in line with GLP principles, ensures that the sensor complies with applicable specifications prior to each titration. This increases the reliability and accuracy of analyses.
Total Security with LabX® PC Software
Efficient data management
Use LabX Titration Express with G20S for full titrator control, safe database archiving, efficient management of results with graphic monitoring and individual search filters. The Windows based user interface supports the user in every action performed with G20S.
One Click is a Registered Trademark of METTLER TOLEDO in Switzerland, the European Union, Russia and Singapore.
LabX is a Registered Trademark of METTLER TOLEDO in Switzerland, USA, China, Germany and a further 13 countries.
Products and Specs
Products and Specs
Filter:
Set filter
Clear All
Max. Number of Methods
Method Functions per Method
Additional Burette Drives (Optional)
LabX Software
Shortcuts per user
Max. Number of Methods5
Method Functions per Method10 max.
Additional Burette Drives (Optional)None
LabX SoftwareNo
Shortcuts per user4
Max. Number of Methods150
Method Functions per Method12 max.
Additional Burette Drives (Optional)1 max. (for dosing only)
LabX SoftwareExpress
Shortcuts per user12
Services
FAQ

What is a titrator?
A titrator, or automatic titrator or autotitrator, is an analytical instrument used to automatically quantify the...


What is a titrator?
A titrator, or automatic titrator or autotitrator, is an analytical instrument used to automatically quantify the amount of a chosen substance in a sample. Autotitrators are programmed to precisely add known amounts of a chemical (called the titrant) to exactly quantify the amount of an unknown chemical (the analyte) in a sample.

How does a titrator work?
A titrator does two key things: 1. Adds or "doses" very accurate small amounts of a chemical of known concentration to cause a chemical reaction, and then 2. Measures or "senses" exactly when the reaction ends, called the endpoint. These two functions can give highly accurate and repeatable quantification of a desired unknown chemical.

Why do people use titrators?
Automatic titrators greatly improve accuracy, speed and reproducibility of titration analyses vs. traditional manual titration, that is, where a human operator manually adds a chemical drop by drop and watches for a solution color change as the reaction endpoint.

Which industries use titrators?
Titrators are used in nearly every imaginable industry doing chemical analyses, including petroleum and plastics, foods and beverages, paper, pharmaceuticals and biotechnology, cosmetics, electronics, automotive and aerospace, forensic labs, academia and more.

What is a semi-automatic titrator?
Semi-automatic titrators assist users with the two key titration functions, 1. Dosing a chemical very exactly via an automated burette and 2. Monitoring the endpoint via an electrochemical sensor. The user still controls the instrument's dosing until the endpoint, but the automated burette and sensor provide much better accuracy than fully manual operation. Easy EPM is a semi-automatic titrator.

What is an automatic titrator?
An automatic titrator or autotitrator performs a complete titration reaction without user assistance. A computer control loop and algorithm instruct an automated burette to keep dosing in small amounts until the reaction endpoint is sensed automatically. The computer then stops dosing and records the endpoint volume. Compact and Excellence Titrators are examples of fully automatic titrators.

Explore our Services - Tailored to Fit your Equipment
We support and service your measurement equipment through its entire lifecycle, from installation to preventive maintenance and calibration to equipment repair.