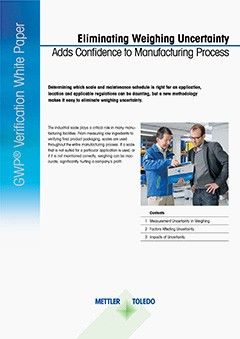 Calculating Weighing Uncertainty
Calculating the weighing uncertainty of a scale plays a critical role in many manufacturing facilities. From measuring raw ingredients to verifying final product packaging, scales are used throughout the entire manufacturing process. If a scale that is not suited for a particular application is used, or if it is not maintained correctly, weighing can be inaccurate, significantly hurting a company's profit.
Any measuring device, whether it is a ruler, a speedometer or a scale, is associated with some measurement uncertainty. Weighing uncertainty means that no measurement is perfect; it is always distorted by random errors and unknown systematic errors. It is often expressed as an error associated with the weight (10 lbs. ± 0.001 lbs.).
The accuracy of your scale directly affects quality. Using the correct scale for your application and maintaining it properly will ensure the quality of your
product. Good Weighing Practice™ (GWP®) methodology from METTLER TOLEDO provides the necessary information to make decisions about your weighing system. By calculating weighing uncertainty and testing the scale in place, weighing experts can certify the weighing process, meet final product quality requirements and ensure the scales are proven to be fit for their intended use.