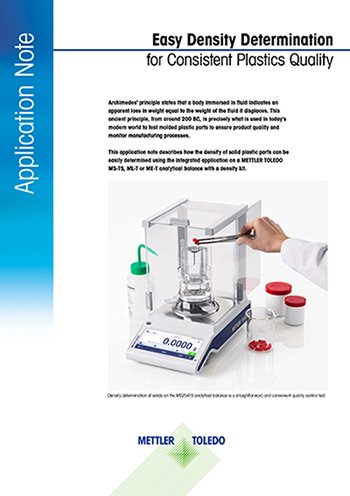 Easy Density Determination for Consistent Plastics Quality
Density determination is essential for consistent plastic quality. The Archimedes principle states that a body immersed in fluid experiences an apparent loss in weight equal to the weight of the fluid it displaces. This principle, from around 200 BC, is precisely what METTLER TOLEDO's MS-TS, ML-T and ME-T balances make use of in the modern world to test the completeness of molded plastic parts to ensure consistent product quality. Density determination involves weighing the object to be tested in air and then in a liquid of known density (usually water or ethanol).
With the addition of a Density Kit, it is easy to convert your METTLER TOLEDO MS-TS, ML-T or ME-T balance for density determination:

The built-in application provides clear guidance through each step of the process and automatically calculates the final density result, which can then be compared to pre-set tolerances to ensure the part meets the defined quality standards.
Density measurements compared over time highlight any subtle trends in raw materials or injection molding processes.
These trends can be used to decrease the number of rejects and improve productivity for bottom-line savings.