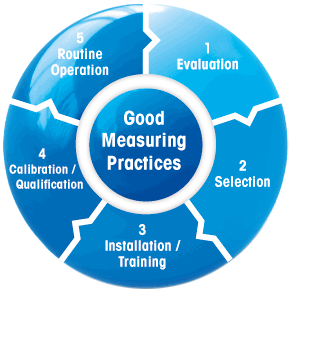 Good Measuring Practices
Five Steps to Improved Measuring Results
Good Measuring Practices by METTLER TOLEDO is a global program supporting you in laboratory and production environments with quality assurance measures for weighing, titration, thermal analysis and pipetting, as well as for determining density and the refractive index, pH and conductivity values, or melting and dropping/softening point analysis.
The five steps of all Good Measuring Practices guidelines start with an evaluation of the measuring needs of your processes and their associated risks. We also take into account regulatory requirements and norms relevant to your industry.
With this information, Good Measuring Practices provide straight forward recommendations for selecting, installing, calibrating and operating laboratory equipment and devices.
Learn more about our program for your instrument:

Good Weighing Practice™
Guaranteed Better Weighing Results — At Your Fingertips with GWP®

Good Titration Practice™
Dependable Titration in Practice — Reliable Results with GTP®

Good Pipetting Practice™
Improved Pipetting Techniques — Minimize Risk with GPP™

Good Electrochemistry Practice™
Reliable pH Measurements — Thanks to GEP™

Good Density and Refractometry Practice™
Secure Density and Refractometry Results — Guaranteed by GDRP™

Good Thermal Analysis Practice™
Fast and secure Thermal Analysis Results — With the help of GTAP™

Good Melting and Dropping Point Practice™
Reliable Thermal Values — optimized by GMDP™

Good UV/VIS Practice™
Trustworthy Results — optimized by GUVP
Stay on Top and Assure Quality!
Register and get free access to White Papers and other Literature
to enhance your application know-how.